Science education in Uganda
Chemistry, physics and biology have the lowest pass rates out of all major subjects in Uganda.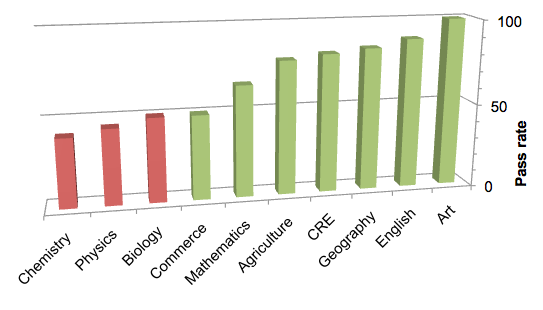 In the 2011 O-levels, nearly 75% of students failed biology and chemistry.
Uganda
Uganda has 'Low Human Development', and ranks 161st out of 187 countries in the world.
50% of the population are under 15 years old.
Literacy rate is just 62% for females and 77% for males.
Secondary school enrolment is less than 25%.
37% of children are involved in child labour.
Uganda is ranked 106th out of 130 countries in the Innovation Capacity Index rankings*
Lwengo District
In 2011, Lwengo District is estimated to have 264,900 residents.
There are 17 registered secondary schools (5 government-run and 12 private) but in reality the number is closer to 50.
There are no hospitals in the district.
*The Innovation for Development Report 2010-2011 says that the "most important" factor in development is "the extent to which societies are able to harness the latent creative capacities of their populations."
Sources
2002 Census Analytical Report Summary
United Nations Human Development Report 2011
Uganda Communications Commission
Unicef Uganda Statistics
Innovation for Development Report 2010-2011