We regularly receive emails asking for advice on the process of setting up a mobile teaching laboratory. This page answers some of the most common questions we receive. For enquiries about issues not covered here, please do contact us.
Can TASTE set up a mobile lab in _______?
We often receive reports of other areas of Africa which are in need of projects like TASTE. We do feel that the model is widely applicable. However at the moment we do not have the resources to roll out additional projects. We intend to focus on establishing a strong foundation in Lwengo District before moving on to any other areas. You are very welcome to contact us with any suggestions, but these are unlikely to be considered for a number of years.
What we can do is to share as many of our resources as possible with those who have similar plans. We plan to share all our teaching materials, which will be uploaded shortly, and this page contains some of the of knowledge we have acquired as we established the project.
What do you need to set up a mobile laboratory?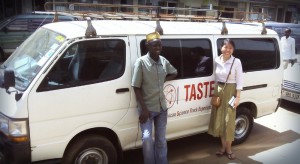 A mobile lab is not a complex idea. Typically you will need at least the following.
Upfront capital costs
Equipment – the chief advantage of a mobile laboratory over teaching in individual schools is that the mobile lab can really invest in equipment. You will want to purchase sufficient equipment for students to work in relatively small groups, and a wide enough range to be able to cover many areas of science. Plan your experiments before buying the equipment for them, so that you don't buy items that go to waste.
A vehicle – this needs at least to be able to carry the equipment and your staff. We use a Toyota Hiace which is able to carry more than three staff, and our equipment. The appropriate vehicle for your project will depend on the number of staff, amount of equipment and the nature of the roads that lead to your schools.
Running costs
Chemicals and consumable equipment – some experiments involve using up chemicals, or burning gases. You must budget to replace these each year. In addition, you should expect a certain amount of the equipment to be broken each year, remembering that some equipment will be being used every hour of every school day.
Salaries – you will need to employ teachers, and perhaps lab assistants – see the discussion below
Building – you will need somewhere to store equipment and chemicals which are not being used. This could be as small as shed, or it might be a larger building which must be rented. TASTE rents a building in which all our staff live.
How do you manage relationships with schools?
Good partnerships with target schools are fundamental to the success of any mobile laboratory project.
Selecting schools
We did extensive research before launching the project to identify schools which:
Lacked science facilities, or the potential to offer them in the future, and so would be assisted by a mobile lab
Were keen to participate in the project
Had sufficient students to justify a visit from a mobile laboratory
If there are not a large number of schools satisfying these three conditions in your target area you may want to reconsider the project. If there are, you must now work out how many schools you can realistically visit.
For a single mobile laboratory there is a trade-off between how many schools are visited and how often each school is visited. Our model is to reach 12-16 schools, visiting each at least once per month during school terms, and so 9 times per year.
Agreement
We sign an agreement with the headteacher from every school we work out. This sets out our responsibilities, creating appropriate expectations, but also what we expect of the school. For example, we require that a teacher from the school be present during all our lessons. This serves two purposes:
This teacher takes ultimate responsilbity for the behaviour of students.
More importantly, we hope that by actively participating in the lesson, the teacher will learn new techniques for teaching practical sciece. Ultimately they may be able to lead practical sessions on their own.
Unexpected benefits
Having a good relationship with schools can prove important in less obvious ways. There may be many occasions where you need access to large spaces for events. For example, we hold teacher-training events to show staff in our target schools the experiments we are going to teach with them, as well as meetings for headmasters.
If you establish a close relationship with a local school, it may allow you to use its classrooms for these purposes over weekends.
How do you get funding?
Funding any new project is likely to be a considerable challenge. Who you should approach will depend on the country you are operating in. You will want to compile a detailed case-for-action, including an assessment of why the project is necessary, how much it will cost, and exactly how it will operate. Possible funders include:
The schools themselves – could they each contribute enough to establish the project?
The government / local district
Local universities
Charity partnerships
International NGOs and trusts
What are important teaching considerations?
Clearly this is a big question, but there are a few points we have learnt that are specific to teaching practical science to students who are not familiar with it.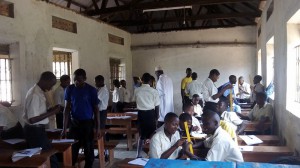 Staff
Class sizes in your target schools may be very large and it is important to have sufficient teaching staff to be able to support students who are doing practical science for the first time. Not all these staff need to have science degrees or teaching qualifications.
Lab-assistants will be doing a relatively short number of experiments over and over again, so as long as they are enthusiastic, many school-leavers can be trained to answer the vast majority of questions students might have.
Make sure you include the science teacher from the school you are visiting as part of your teaching team, they will know individual students better than you, and the experience will also be useful for them.
Worksheets
We find it helpful to give students a one-page worksheet to work from. This provides instructions to guide them through the experiment and means that they do not have to worry about writing everything down in order to have a permanent record of the experiment. This frees them to really think about what they are doing, and why.
However the cost of printing worksheets for many thousands of students is not insignificant. In general we economise to one double-sided page per experiment.
Safety
Safety is very important in any science laboratory, and especially when you have inexperienced students. All staff should be trained on the hazards present in any experiment, how to minimise them, and what to do in the event of a mishap. You should conduct risk assessments for each experiment, and review them regularly. We begin teaching any new set of students with a talk about safety, and the steps they must take to keep themselves safe. We will not say more about specific risks here, because you must establish these for every experiment you work with.
Can you recommend any other sources of information?
The MSL from Grahamstown, South Africa, has useful information on setting up a mobile lab. We will be adding more material to this page over time, but you can always contact us.