Every lesson we teach is made possible by the generous donations of our supporters, both individual and corporate. We could not do the work we do without them. As a young organisation we are still in need of funds, and if you can spare even £5/€5/$5 this would be deeply appreciated.
You can donate to TASTE online with Virgin Money Giving.
---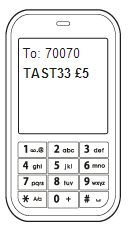 If you live in the UK you can donate by text message. Just text TAST33 £5 (or any amount up to £10) to 70070.
If you would prefer to make an offline donation, you can send us a cheque made payable to 'The African Science Truck Experience (TASTE) UK' to TASTE, 71 Margravine Gardens, London, W6 8RN. If your donation is eligible for Gift Aid, please include this form.
If you donate over £250 we will add you to our list of major donors.